Jonathan Blond managed a consultancy firm specialising in health, safety and environmental concerns for many years, but, in 2020, he made the decision to change lanes and launch Wolfpack Coaching. His concept? Supporting and assisting those seeking balance, by bringing all of his passions – teamwork, action, leadership, the woods and wolves – together in a new business project.
Coaching and Digital Marketing
in perfect synergy.
Jonathan Blond trained as a forestry engineer and studied wolves in Canada. The twists and turns of life led him to a twenty-year career fighting to prevent workplace accidents.
After successive turns as a consultant, manager and entrepreneur, he finally transferred his safety consulting company to an international group and launched Wolfpack Coaching, a business model centred around an innovative and refreshing approach to individual and group coaching.
Wolfpack Coaching offers clients professional individual and group coaching services and organises immersive courses in the woods, with the wolf and wolf pack serving as natural metaphors.
Its mission is to coach individuals and organisations that are looking to make a change and find a balance and need to take action to achieve a specific goal or deploy a broader strategy.
To Jonathan, though, this challenge can easily be tackled via a modern approach. He believes the key lies in offering maximum availability to the people he supports.
Exhausting, old-fashioned communication or tedious admin – that's a thing of the past. Jonathan wants EVERYTHING to be automated !
That's where the magic of technology and digital marketing comes in.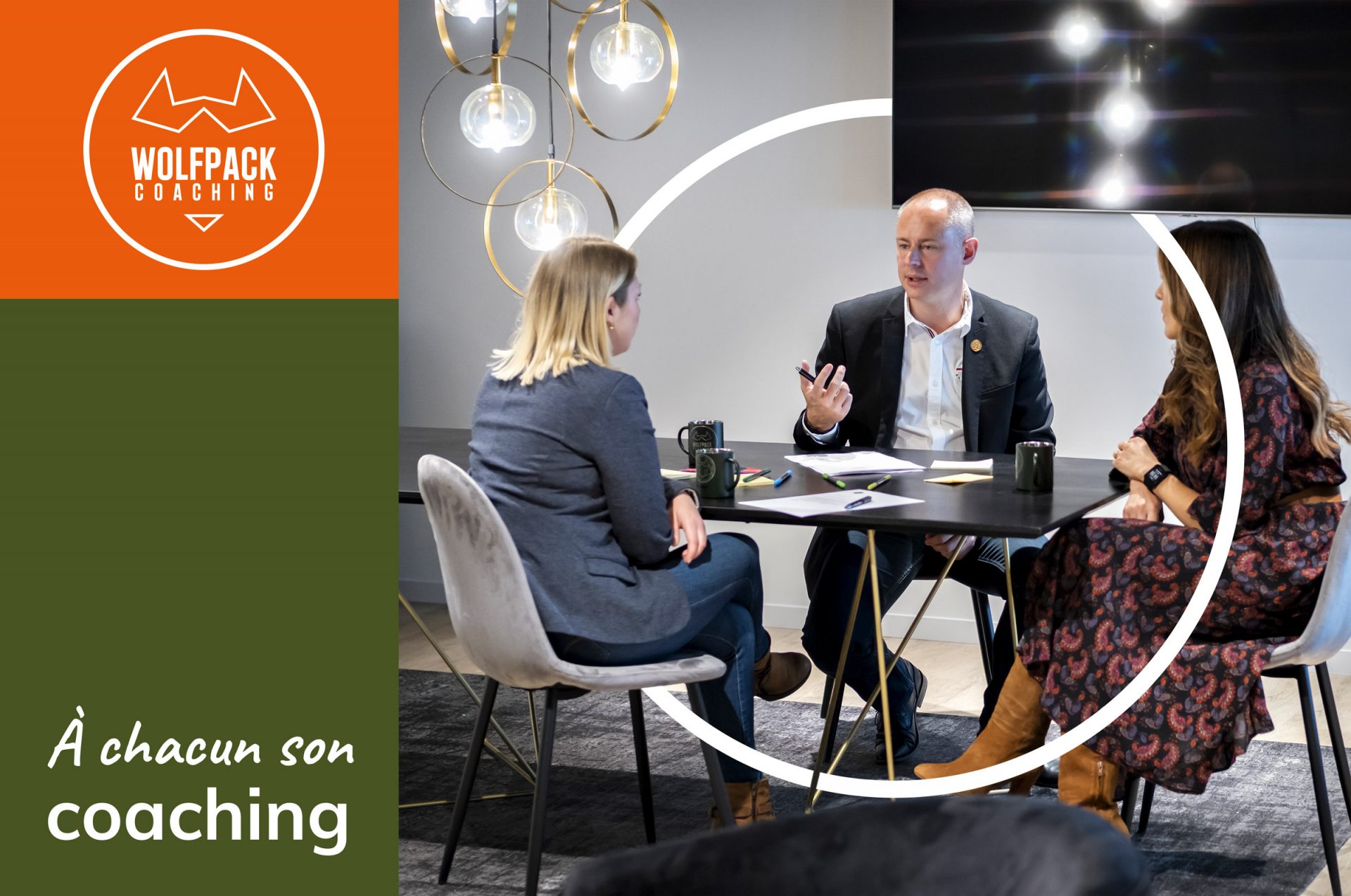 A video is worth a thousand words…
Coaching is a moment for sharing, for trust and for introspection and must be supported by tried-and-tested methods. To highlight these intimate moments, we have created video clips to present different coaching methods. This is a way to pull the curtain back on this profession and highlight the relationship between the coach and their client.
However, Wolfpack Coaching doesn't confine itself to traditional coaching. It also offers immersive courses in the woods and team-building activities.
In these cases, videos can also help to explain the work done by the coach.
We have developed the ideal marketing 4.0 tool kit for Wolfpack Coaching
A business project like this required a strong brand identity, one that demonstrates the rigour that a certified coach provides and the flexibility that comes with a relationship based on trust.
There is also the link between the wolf and their pack, which was an essential part of branding this fledgling company.
Sharing strategic reflections concerning brand identity, creating colour charts, photo and video shoots, designing email signatures, roll-ups and badges for outdoor clothing, as well as the Odoo website and Facebook, Instagram, LinkedIn and YouTube accounts – these are just some of the tasks carried out on Wolfpack Coaching's behalf.
An inspiring and
engaging website
When it was time to design the Wolfpack Coaching website, we opted for a human and emotive approach with a number of call-to-action prompts designed to convert a curious visitor to a loyal client.
This formidable marketing machine was configured with Odoo technologies and applications.
Don't worry… we don't bite! Pay a visit to the office and you'll be the alpha for a day!